Eerie night at Wilberforce's Rose Cottage
When Ghost Territory Tours opened for bookings in the Hawkesbury we were interested and excited… plus we wondered if Rose Cottage was really haunted?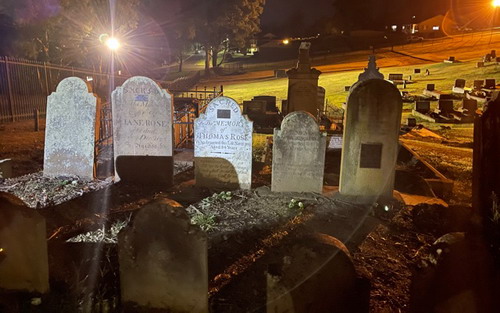 My friend and I decided to find out… there was something thrilling about meeting at dusk in an eerie historic cemetery. The sheer size and age of the Wilberforce Cemetery surprised us. This heritage-listed cemetery was established in 1811 – that's over 200 years ago!
Just as the sun starts sinking we meet our guide Rob (Wolfman) Wilson and the other folk participating in the nights excursion. Rob shows us to the way to meet tonight's 'co-hosts' – the Historic Rose Family. Thomas and Jane Rose were the first free settler family to make Australia home.
It is humbling to be standing in the graveyard absorbing so much local history – how do I feel? Interested, excited, uncertain… after we become acquainted with the family and their amazing story we make our way to their home Rose Cottage - the oldest standing timber slab cottage in Australia.
When we arrive I enter the grounds and my handbag falls from my shoulder, I fix the strap, take another few steps and it does it again. Odd… but I don't really think much of it.
Our small group gather together for a run down on our ghost hunting pack – at this induction we are assigned a personal ghost hunting kit to use during the evening, I have no idea what some of the equipment is – but I am quickly bought up to speed – the aim of the equipment is to hopefully make contact with the afterlife.
Our host Rob recounts tales from his experiences at Rose Cottage. Oh wow…..hmmm.. so tonight really could get interesting…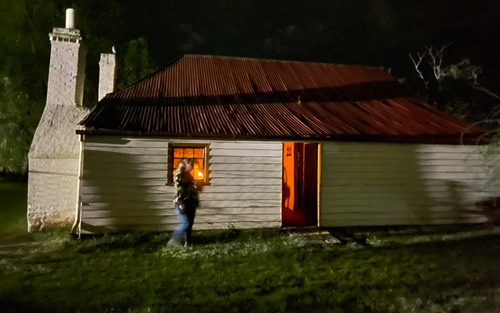 We enter Rose Cottage. It is a humble home – a single story building with a large attic, and a verandah to the north side. Constructed from timber you are transported back to a time where life was not easy and families worked hard to survive. Rob points out a few things of interest and we get down to the fun part – can we contact the other side? We use the gadgets that check temperature fluctuations, energy fields and low frequency sounds (see I learnt a lot at the induction!) We take our time to explore different rooms in the cottage and make good use of our equipment.
Our group of '7' certainly was a lucky number tonight.. almost immediately we had signs of activity! What a response – I had no expectations coming into the night, but wow I didn't expect to experience things I did!
The evening went by quickly and it was time to regroup and return our ghost hunting kits. We excitedly recounted the interesting happenings – it was then I realized that I may have been played with as soon as I walked into the grounds – did 'someone' cheekily tug my handbag strap causing it to fall twice?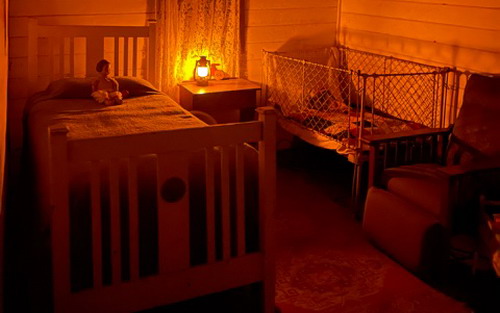 All too quickly it was time to go and we were saying our goodbyes to Rob. He explained that he had to return, by himself, to the cottage to lock up – on a spur of the moment my friend and I decided to join him. Standing in the dining room we noticed that the only piece of his ghost hunting equipment still running was a word interpreter machine – I noticed it was displaying the word 'THOMAS' … woah! Ok maybe a coincidence or just chance but then to our surprise the next word appears… 'REAL'. I broke out in goosebumps. Nothing more needed to be said - except thank you Rose family for your evenings hospitality.
Our tour made for a memorable night out and sleep eluded me for some time that evening. You don't have to be a paranormal expert to appreciate this night time tour. The Rose Cottage Experience is part history exploration, and part ghost investigation; it's for people who are keen to have an awesome time in the dark. Ghost Territory Tours goes to a number of iconic Hawkesbury locations – see what's in store.