Australiana Pioneer Village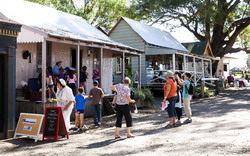 CURRENTLY CLOSED DUE TO FLOOD DAMAGE
The Australiana Pioneer Village, set on 27 acres on the Hawkesbury riverbank, is a historic collection of working buildings from our colonial past. See the blacksmith's sparks fly at work, eat freshly produced damper, drink billy tea, experience life and hands-on history in the working village. Listen to the bush musicians, take a train ride or peruse speciality shops at leisure. When you visit the village, you'll see why a number of movies and TV series have been filmed here.
In 2004 the village buildings were gazetted for listing on the NSW Heritage register, which was granted. The village is owned by Hawkesbury City Council and operated by dedicated volunteers.
It is open Sundays 10am- 4pm, most Monday public holidays and for group bookings on Tuesdays and Wednesdays.
Entrance is on Rose Street, Wilberforce and parking on-site is free.
Adults $10
School-aged children $5
Family $25 (2 adults and 2 school aged children)
Children under 3 years Free
Seniors and Carers $5
Click here for more information about this unique village.