The cosiest places in the Hawkesbury
Winter is certainly well and truly set in. The best thing about winter is finding and enjoying the warmth of an open fire, a mulled wine, or a decadent dish like a spiced apple pie on a winter's day.
There's plenty of opportunity for those right here in the Hawkesbury.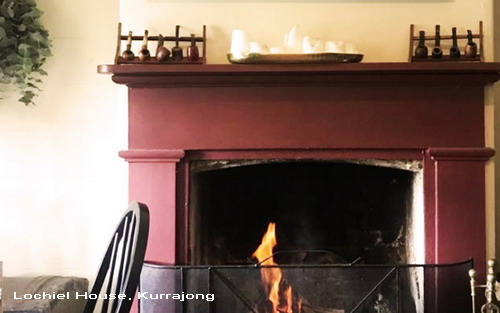 Why is sitting by a fire so relaxing? We could probably go on about it all day but the office consensus and some researching suggests it is often because:
- Our evolutionary senses align a good fire and being warm to survival instincts of success, so it feels good resting by a fire.
- We often catch up with friends and family around fireplaces and fire pits so we associate them with good times.
- It's just a nice feeling, especially at the end of the day with a tasty meal or a warming drink.
- The elements of crackle and ambient lighting in fire reduces blood pressure and overall stress levels.
Who's to argue with that?
There's no shortage of places to warm those chilled bones so we thought we'd compile a list of a few of our favourite cosiest fireplaces to visit, cosy places to beat the cold and soak up the warmth of the flames inside ...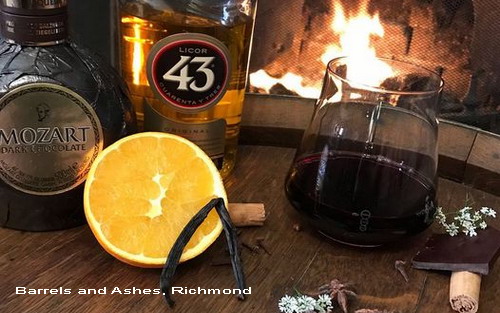 Lochiel House, Kurrajong Heights
Lochiel House is a 200+ year old cottage offering Modern Australian cuisine with hints of South African influence. Open Friday and Saturday dinner from 6pm and weekend lunches 12pm to 3pm, its traditional style open fireplace is so rustic its mantle adorns a historic local map.
The Village Kitchen, Kurrajong
This café in the heart of the Kurrajong Village is open for breakfast and lunch from 8am Tuesday to Sunday, and also for Friday and Saturday night dinners. It boasts a beautiful open fire in the dining room, and a delicious seasonal menu.
Barrels and Ashes, Richmond
Barrels & Ashes is a welcoming haven for those who wish a pleasant, long relaxing meal or a couple of drinks after work and a great place to meet with friends. They trade Thursday & Fridays 12pm to 10pm, Saturdays, 12pm till late and Sunday 12pm to 5pm. Take your place next to their roaring fire and enjoy their very special mulled wine. Cheers!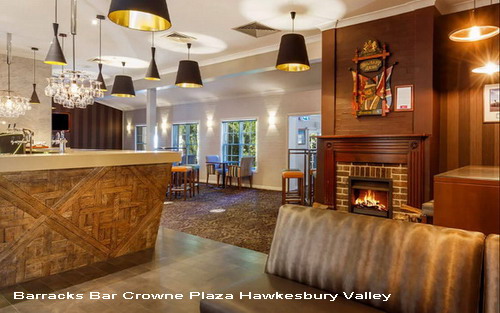 Barracks Bar at Crowne Plaza Hawkesbury Valley, Windsor
Located within the Crowne Plaza and open from 11am 7 days the bar is an ideal place to meet up for a coffee catch up, sumptuous lunch or after work drinks. The fireplace here sets off the feel for this ambient all day dining lounge.
Heritage Hotel, Wilberforce
Wilberforce's local pub is must have one the warmest fires in the area - placed smack bang in the middle of the dining area, there's no chance you'll be cold here. As they say "We serve our beers cold but our welcomes warm"… that's spot on! The extensive menu (make sure you check out the specials) has something for everyone, open for lunch from 12pm and dinner from 6pm 7 days.
There's plenty more out there– let us know your favourite local venue with a fireplace.
Have an extended need for a fireplace? Many of our Hawkesbury accommodation providers have cosy cabins, fireplaces and even out door fire pits. Check out our accommodation listings to extend your stay and let the fire warmed contentment from our local venues keep the chills at bay!
You can find more dining options in The Hawkesbury with and without fireplaces in Discover The Hawkesbury's taste page.