Uncover the 5 best historic pubs in the Hawkesbury
It is often said that history is made in pubs and in the Hawkesbury that sentiment reigns true. Many of our Hawkesbury local establishments have histories dating back well over 200 years. If the walls could talk our pubs would speak to us of everything from garrisoning red coat soldiers, tragic accidents, the home life of many of our local icons and speculation of resident spirits that still wander the cellars of the venue. The buildings themselves are also important pieces of history, representing styles of architecture and telling stories of the people who constructed them and the materials used to do it. So if it's history that interests you or if you are simply craving for a schooner of lemon, lime & bitters and an epic chicken schnitzel, read on!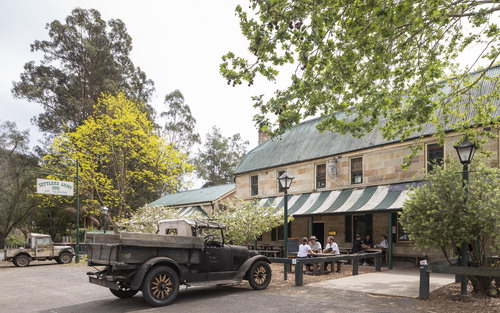 One of the most iconic pubs in the Hawkesbury region is the Settlers Arms Inn at St Albans. About 30 minutes north of Wisemans Ferry, the drive to St Albans is one of the prettiest drives in the area passing through the wilderness of what locals call "the Forgotten Valley". The Inn itself, established in 1836 is constructed from convict cleaved sandstone, each and every rock showing the unique scars of the manually intensive processes of splitting, cutting and shaping the local rock. Used as a Cob and Co stagecoach stopover in the 19th Century, the Inn is now open Wednesday – to Sunday (call ahead or check their Facebook page for changes and special events) making it a popular spot for visitors by passing Sydney and day trippers. Overnight accommodation is available for those inclined to stay longer and explore the area. The expansive shady yard provides a laid back dining area for patrons and often hosts live music on weekends.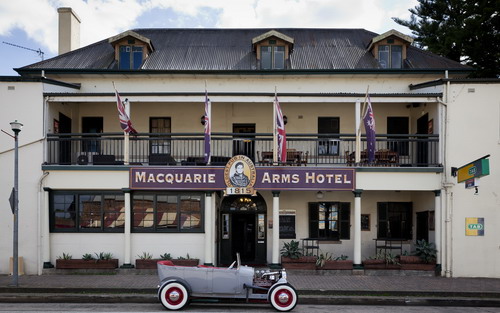 The Macquarie Arms Hotel in Windsor is the oldest hotel building in Australia, Originally built in 1815, this great old pub also constructed with local convict hewn sandstone claims the title of "Oldest Pub in Australia". Like many historic buildings, there's plenty of whisperings and sense of the ghosts of two brothers that died in a chemical explosion on site while distilling spirits. When visiting make sure you seek out the plaque on the garden wall facing Thompson Square which indicates the height of the Great Flood of 1867, when the river reached 19.3 metres.
Compare the tree in the picture on our Windsor heritage highlights booklet, it's certainly grown a little since then! Open 7 days, patrons can enjoy the indoor and outdoor areas or opt to watch the world go by from the second storey balconies. Call in for a quiet drink or a classic pub meal. While you are in the area, call into the Hawkesbury Regional Museum which is just around the corner to find out more about the past of The Hawkesbury. Admission is free, open 10am to 4pm, 6 days (Closed Tuesday).