Pram friendly walks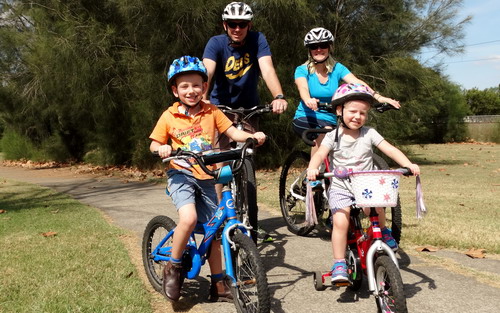 We've been having some wonderful weather lately and with that has come many questions at the Visitor Centre about pram and kid friendly pathways in the Hawkesbury.
We'll share a few of our suggestions.
McMahons Park, Kurrajong: The pathway is a one kilometre circuit and is an easy grade and fully paved. It's suitable for prams with large wheels and for small kids with bikes. Best bits: Peaceful, bird calls and potential to see local wildlife.
Blue Mountains Botanic Gardens: The garden has free entry and has several kilometers of walking trails, while most are unpaved and there are occasional steps, most of the garden is navigable with a pram. Best bits: Free entry and stunning gardens.
Looking for longer pram and family friendly pathways?
Ham Common: Is a long paved walking path that goes 2km one-way from Richmond to Clarendon, bounded by Hawkesbury Valley Way and the train line. It's great for walking with prams and for children on bikes or scooters. We suggest parking near the tennis courts at Richmond and walking east to the skate park at Clarendon. Best bits: Exercise equipment en-route, fenced playground next to the Hawkesbury Visitor Information Centre (pop in and see us!), family friendly café along the way with fantastic baked treats , possible RAAF airplane sightings.
North Richmond to Kurmond: Park at North Richmond shops for the walk up the hill past Colo High to Kurmond - this one will get your heart pumping and is fully paved. Adult cyclists share the path which parallels Bells Line of Road. It's 4.5km one way - so 9km return - decide if you want to walk the hill first or on the way back. There are coffee options at North Richmond and Kurmond. Best bits: a good workout, pleasant rural views.
Watch for side streets and driveways which intersect the path - more suitable for prams not kids with bikes.
Clarendon, Percival Street: This is a quiet walk behind the back of the RAAF base on a fully paved path. It's relatively flat and is 3km return. Park near the old RAAF entrance. Best bits: quiet road, rural vistas. Better for prams and older kids on bikes.
Redbank, North Richmond: Start at Peel Park , North Richmond and follow this 4km signposted return walk along Redbank Creek. The undulating path is paved in sections or is hard packed gravel suitable for prams and kids bikes. There are exercise stations, an aboriginal interpretive site and children's playgrounds along the way. Best bits: quiet and peaceful, good birdlife, lots to keep the kids engaged.
Berger Road, South Windsor: Start at Stewart St, South Windsor near the PCYC Recreation Centre. You'll see the pathway heading through a grass easement between McKellar Crescent and Cunningham Place. Follow the pathway as it winds its way past Berger Road Reserve and then through residential and parkland to Arkell Drive, Bligh Park. All up its about 4km return and mostly flat. Best bits: quiet backstreets and park areas, wide pathway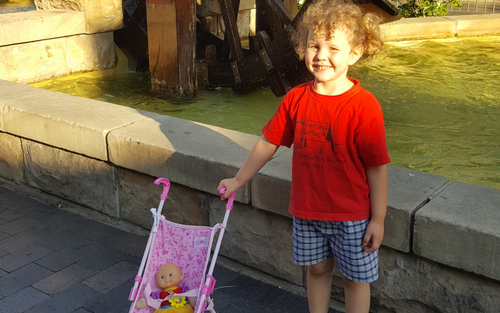 Happy wheelie wanderings!