Kurrajong: A fun day out for Kids and K9's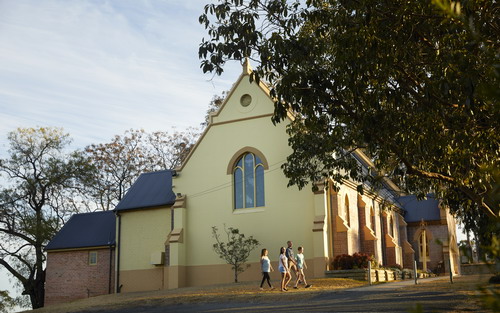 All aboard! Pack up the kids and the K9's for a day out in Kurrajong.
Kurrajong gives the impression that you are far from the Sydney madness and the sprawl of the suburbs. It offers a peaceful country village atmosphere and fabulous rural vistas - and its just over an hour and a half from the centre of Sydney or 40 minutes from Penrith.
Head west along Bells Line of Road and take the signposted left turn to the village. Almost immediately you'll see historic St Gregorys church built over 115 years ago. There are fabulous views towards Sydney from the church grounds.
A kilometre further on you'll arrive in the small village.
First stop if you want to stretch your legs is McMahons Park in McMahon Park Road. The hidden gem has a large sporting field great for family games, walking paths, playground, BBQ facilities, toilets all set in a quiet shady setting.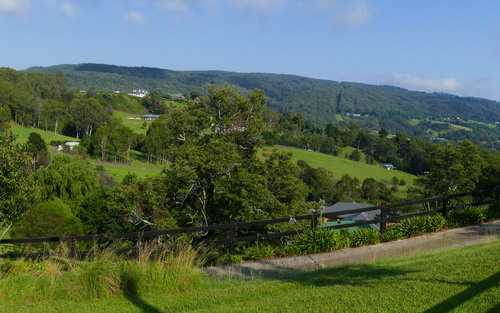 The recently constructed 1km loop walking path around the oval is a great spot for young kids to master their bikes or take the dog for a walk (onlead).
To find out more about Parks in The Hawkesbury download Hawkesbury City Council's Parklands Guide from the Parks page.
For families with kids download the Bushtrackers McMahon Park Nature Walk map and activity guidebook before heading to the Park. It encourages on site learning and fun.
The walking trail (approximately 950 metres in total) is an easy grade path so suitable for the whole family including onlead dogs.
Heading back up the hill, Memorial Park (84-96 Old Bells Line of Rd, Kurrajong) is right in the heart of the Village. It has always been a family favourite however it's creating even more smiles than ever amongst children since the playground was fully refurbished in 2020.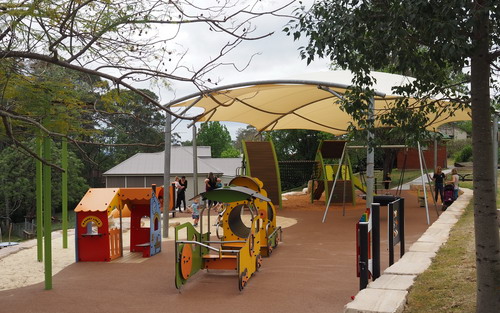 The fun bright new playground suits younger and older children has a shade sail, public toilets and picnic facilities. The park is named for the War Memorial on site which commemorates ex-servicemen and women from the Kurrajong District who have served Australia in war and peace.
By this time you'll be probably ready for something to eat or a caffeine hit. If you didn't pack your own picnic there's several dine in and takeaway options. Most of the cafes will allow a well behaved pooch to sit outside but its best to check with the staff first.
Our pick with younger kids:
Goodie Goodie Gum Drops Café offers casual family café dining as well as a well-stocked confectionery shop. Think of some of the old favourites - fun dips, choo choos, lollipops the size of plates, chocolate freckles you'll find them in store and so many more. They also have slushees, ice-creams and some pretty epic looking milkshakes. Open 7 days from 8:30am.
Our pick with K9's:
Kurrajong's K-9 Delights (back near St Gregorys Church) offers a fully fenced park for dogs to explore and play with other pooches while their humans can stay close by. The café is open weekday mornings from 6am to 11am and 8am to 2pm on weekends. Opening times are seasonal, so make sure you check their hours on their Facebook page before travelling.
Our pick for cafes with great views
The Village Kitchen has an innovative and seasonal menu to enjoy with your choice of indoor or outdoor seating. Closed Mondays, open Tuesday to Sunday from 8am to 3pm and Friday and Saturday night dinner from 6pm.
Common Ground Café is a locals favourite with great views, tasty food and great coffee, they are open 7 days from 8am, closing 5pm weekdays and 4pm weekends.
Schembrae's is already creating a stir of anticipation, set to be opening early February 2020, they will launch onto the Kurrajong Village dining scene with a 'small plates menu' and drinks. The licenced restaurant will trade 7 days from 10am to 9pm.
Our pick for a cosy cafe
Deli La Na is a small deli café with all kinds of delicacies, sweet treats, coffee, unique meals and almost everything you could want to cater for a picnic lunch. Open 7 days, 8:30am to 5pm weekdays, 8:30am to 4pm Saturdays and 8am to 1pm Sundays.
Please note business hours are subject to change and some eateries may require bookings at peak times.