Getting your daypack in shape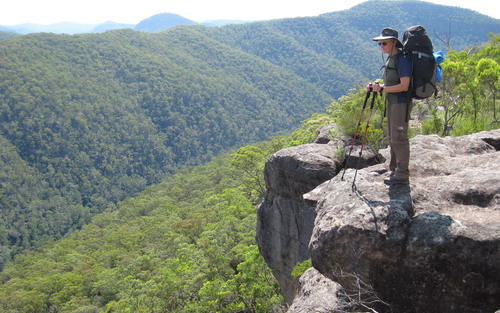 Interest in our local bushwalks has exploded during lockdown. Hawkesbury locals are taking advantage of the fact that we have so many great walks nearby in the national parks and that they aren't packed with people.
I know some people's idea of bushwalk preparation is to head off on a walk with their mobile in their back pocket and a grungy old bottle of water that has been rolling around in the car boot. That's better than taking nothing but really if you want to explore some of the longer or quieter walks you need to be a bit better prepared than that. And without wanting to scare the pants off you, you really should be taking a snake bite bandage if you are walking in spring. Yes they will be out and about as the weather warms up.
This list is a guide for what to take on a daywalk and compiled by someone that has been packing for bushwalks for over 35 years. And it has taken me years to refine what I take - a balance between safety, weight, comfort, changes in gear technology and risk. And of course if you are doing particular activities or are walking in particular weather conditions you will need to change things up.
It's not the definitive packing list but use it to check off what is in your pack. And the brands mentioned aren't a recommendation - there are many out there that can serve you just as well.
Hope you find it useful.
Backpack
The market is full of these things - you can pay anything from $15 to $300 for a flashy daypack. Most homes have one in a cupboard somewhere and by and large most will do the job. Ensure they are comfortable for the amount you want to carry and that the straps/buckles are in working order before you set off. A good capacity for a daypack is anywhere between 20 and 30 litres.
Raincoat
So no rain is forecast so why carry a raincoat? A raincoat is one of those multi-purpose items and I always carry no matter what the weather forecast says. Mine is fairly lightweight (300gram) and packs into it's own pocket. If the weather turns cold and windy it can be used as a jacket, if you are caught out accidently overnight it will offer you some protection , it can be used to cover someone who has been injured, it can be used to stabilise an injury....the list goes on.
Water bottles
This might be stating the obvious but have you got enough water for the entire trip? In spring and summer I would easily carry 1.5-2 litres of water. Spread it over two bottles - it will help balance the weight in your pack but also gives you a spare in case one leaks or is accidently knocked over when you're having a break. Any type of plastic bottle or water bladder will do - no need to spend a fortune.
Torch
One of the worst things is to be heading back to your car in fading light (or worse stuck out overnight!). I have had this happen when we mis-timed the walk and had to do the last 2km in the dark (very slowly). Don't expect the torch in your mobile to last long enough to get you out of trouble. You don't need to pack a giant lantern here - a good quality keytorch is better than nothing or a headtorch is even better. They don't weigh much and can be stashed at the bottom of your pack.
First Aid Kit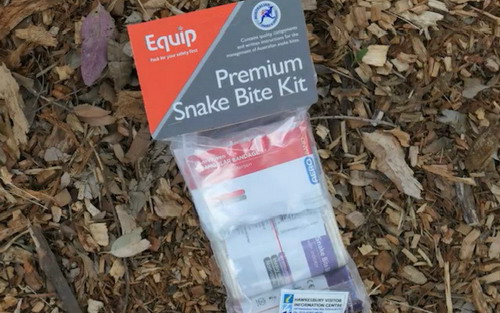 I've made mine up from individual items and I check it every year to make sure things haven't gone out of date or spoiled.
At a minimum I'd suggest taking a snake bite bandage (you can purchase these for $23 plus postage from the Hawkesbury Visitor Information Centre by calling 02 4560 4620 Monday to Friday), bandaid or other plasters, tweezers, antiseptic cream/powder and some painkillers. I have more than this but that's my choice - I do however keep it under 150grams in weight and carry the kit in a clean, waterproof bag.
Navigation
You may already have purchased one of the Best Bushwalks Around the Hawkesbury books from the Visitor Centre. These will provide you with tracknotes and basic maps. Other people depend on mobile phones and walking apps to get them from a to b. If its a longer walk, challenging terrain or a place that I'm not familiar with I will still take a compass and an old school topographic map (yes - the Visitor Centre stocks these too). So for example I would never walk in the Colo River or the Devils Wilderness area without a topo map. Many walks in the Hawkesbury are not signposted or the gullies have poor mobile coverage so don't assume it's going to be like walking around Richmond Park.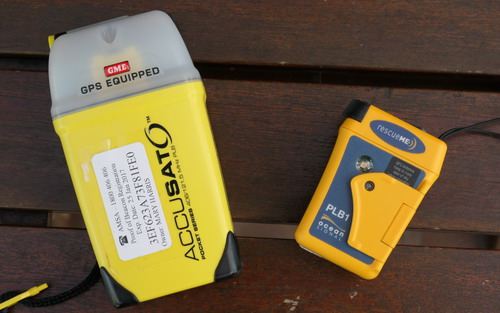 Safety stuff
I carry a PLB or EPIRB at all times - these emergency beacons vary in price but start around $200. It doesn't matter the length of the walk - it's in the pack in the same waterproof bag as the first aid kit. Consider getting one of you're doing a lot of walking - and once you get one, factor in a 6 monthly battery check. Consider installing the free Emergency Plus app on your phone - it is really worthwhile and includes useful emergency contacts and first aid info.
Toilet business
Yep this is obvious. Pack some toilet paper into a snap lock plastic bag with hand sanitiser and plastic bags for used toilet paper. And practice 'leave no trace' after you have finished.
Personal protective items
Again a no-brainer but think about what you'll need for the weather conditions - a sunhat, a small tube of sunscreen, lip balm or insect repellent - do you have essential personal meds that you may need? If you are going near a river a small hand towel may be useful. I carry a bandana which again is multi-purpose - can be used in sweaty conditions, to keep your head warm if it turns cold, as a first aid item, to cool your neck down on hot days, to clean up dirt and grime and even as a mini- tablecloth for your lunch!
Clothing
One of the most over packed items is clothing. Sure if you're heading out in the middle of winter you might want to take gloves, a fleece or jacket. But do you really need that woolly beanie for the 2 hour spring walk at Wisemans Ferry? I carry a very lightweight beanie which I hardly ever use. It packs down in my raincoat just in case of an overnight delay or unexpected cold weather.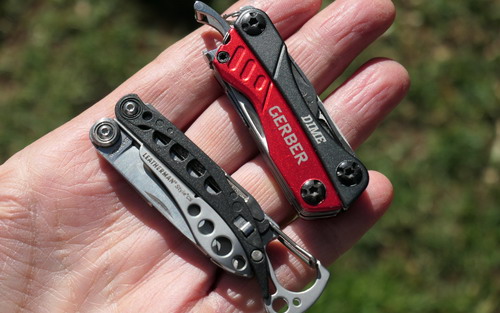 Matches, knifes and multi-tools
This is personal preference and if you really want to carry these go lightweight as possible. Do you need that Swiss Army knife with 45 different functions or will a small keychain tool be sufficient. I can count the number of times I've actually needed a multitool in the bush on one hand. I will leave the hunting knife to Bear Grylls.....
Waterproof your pack
Options here range from a cheapo plastic bag to stuff everything inside your pack into, a purpose made packcover that fits over your pack (not 100% guaranteed to keep water out) or a waterproof roll top bag from manufacturers like Sea to Summit. Whatever you choose think about the weather forecast - if its going to super wet you may want to do a combination of all three.