Unique and quirky Hawkesbury stays
The Hawkesbury is undoubtedly a unique place, its location, its history, its people. So with that come all of our unique places to stay… Yes, we've got some great comfortable motels, B&Bs, holiday homes, cabins and campsites but there are several places to stay that have that have a fabulous point of difference. To help ensure you make the most of your Hawkesbury overnight adventures, we've found places to stay that'll tick the unique box for every type of traveller.
What better way to stay in the Hawkesbury than to actually stay on the Hawkesbury River! Hawkesbury Houseboats at Wisemans Ferry have been operation for over 35 years they have a wide variety of luxury spa boats and houseboats available. You don't even need to be an experienced ship captain to operate the houseboats, they are very easy to handle and no special licensing is required. A little bit of instruction and practice with the Hawkesbury Houseboats team and you'll be comfortable and safe to go in no time away on your on river adventure! If staying on the water isn't for you they also offer day boat and kayak hire too. These vessels aren't just a floating caravan either they are luxury houseboats featuring: heated spas, full kitchens and laundries, home theatres and multiple bedrooms. Find a quiet stretch of river to float the day away or potter around exploring each bend and unique river scape, a house boat stay is a truly memorable experience.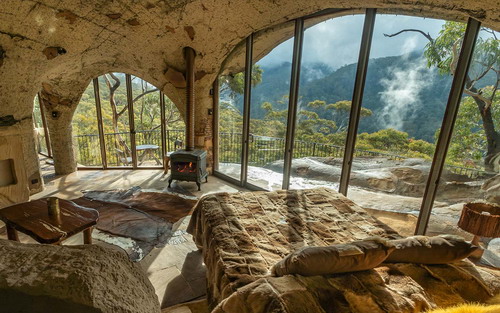 Staying in a cave doesn't sound like modern day living or even something many people would choose to do, but they haven't seen the Enchanted Cave at Love Cabins. While it has those primitive feels of a cave the comfort and safety of being surrounded and protected by solid stone walls, it has all the modern comforts for a weekend away. The views (oh the views!) are spectacular. The Cave is perched on a peak overlooking the mountains and world heritage Blue Mountains bushland wilderness below.
If a cave isn't your thing, there is other uniquely designed accommodation options all nestled within the same 600 acre parcel of spectacular bushland. These options include: The Treehouse (yep, it is really!), the Dream Cabin, the Tepee, the Love Studio, Wollemi House and Wollemi Cabin. Eenie meenie minie mo.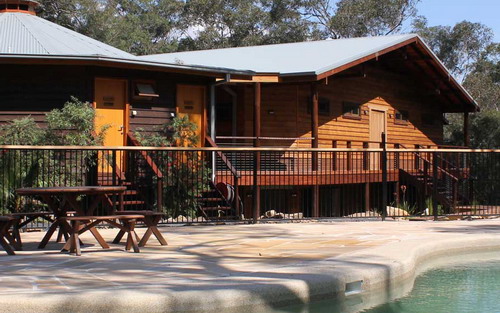 Eco lovers will enjoy the chorus of birds & frogs at Billabong Retreat at Maraylya. It is a place to find peace of mind, contentment and discover wellness. Whether it be just a relaxing place to stay or if you take part in a full residential retreat program it is quite a magical nature paradise. Set amongst giant sandstone rocks that rise up from around the billabong, the retreat centre is perched on the escarpment, nesting in the trees overlooking a lotus garden.
Billabong Retreat is a fully certified eco retreat which was built and is operated with environmental impacts front of mind with a view of continuous improvement. You can read more about their eco story here. The trees surrounding the retreat are full of birds and in the early morning guests will delight in watching resident black wallabies, blue tongue & monitor lizards go about their day.