St Matthews Anglican Church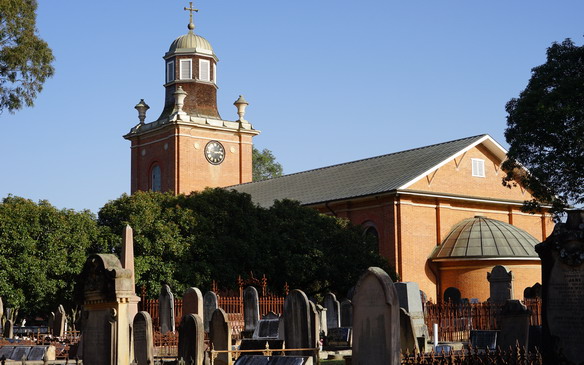 St Matthew's Anglican Church at Windsor is considered to be the oldest Anglican Church in Australia. It's well worth spending time exploring the building and grounds of this Hawkesbury icon.
In 1817 the foundation stone was laid and built to convict architects Francis Greenway's design. It became the second oldest church of any denomination, after the small Uniting Church out at Ebenezer. Governor Macquarie who ordered the church to be built believed that religion was a very important element for all classes of people and for the betterment of the nation.
Francis Greenway directed the building of the new church himself, overseeing the stonemasons and construction workers. It was built remarkedly quickly to a high standard.
From its earliest days St Matthew's Church has been a well known landmark in the Hawkesbury. It has inspired many artists like Alfred T Clint, Lionel Lindsay, Sydney Ure Smith and Hardy Wilson to paint and to capture the outline of this Church which has featured many times in publications and paintings.
In front of the church there is a huge Victorian monument of marble erected in 1882 by the local Mayor Michael McQuade in memory of his daughter. It was intended that this monument be under cover so it is slowly deteriorating. Being surrounded by a brick columbarium housing the ashes of many cremated parishioners a fence had to be erected around the graveyard to stop straying cattle from eating the flowers off the graves.
There are several first fleeters buried in this graveyard, Thomas Arndell a Surgeon, William Cox, the road builder who built the road over the Blue Mountains and Astronomer John Tebbutt. In line with his passion it has spheres on it's four corners which are made of marble, depicting the celestial co-ordinates.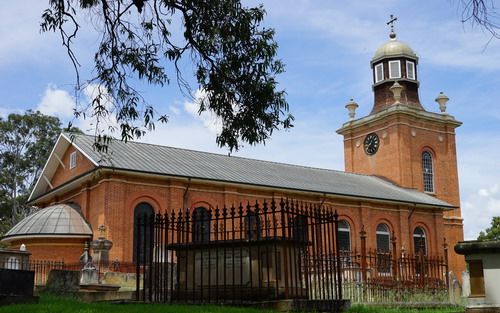 Heading inside the church you'll see seven stained glass windows that were installed as early as 1864. They depict biblical scenes and are also memorials to influential parishioners like Edwin Rouse and John Terry, the stepson of Samuel Terry who at the time was a very rich man in the colony. Other memorials are Harriet the wife of Anthony Hordern and Reverend Henry Stiles an early minister.
The stained windows were taken out to prevent damage during World War Two (being so close to the Richmond RAAF Base). They were stored temporarily in a cellar of Rouse Hill House off Windsor Road.
St Matthew's Church, it's associated cemetery, stables and rectory built between 1817 and 1826, are wonderful reminders of the dedication and skill of the pioneers of the Hawkesbury district. St Matthews Anglican Church has quite rightly been called one of the most beautiful buildings in Australia.
If you want more information about the unique history of this lovely church including it's unique construction we can highly recommend the Windsor Anglican Church Heritage webpage written by Carol Curruthers which can be found here.