Autumn Leaf Inspirations

Cooler days and crisp nights signal autumn is here. Lift your spirits and connect with the autumn transformation as the leaves of the deciduous trees turn red, yellow and bronze.
Late April sees the trees change in the higher elevations around Kurrajong, Bilpin, Mt Tomah and Mt Wilson. As May takes hold, the trees in the lower areas of Richmond, Windsor and Wisemans Ferry begin to display amazing colours – and there's no better time to rug up, take some photos and go for a walk to enjoy them.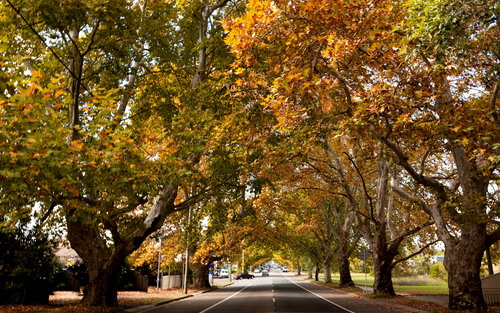 A well known stretch of road....
We are lucky at the Hawkesbury Visitor Information Centre to be located on Hawkesbury Valley Way. This road links our two biggest towns - Windsor and Richmond. This road is home to one of the most well known and iconic autumn displays.
As you pass the RAAF base and drive into Richmond along the Hawkesbury Valley Way you'll see a magnificent avenue of mature London Plane trees. These trees tower up to 30 metres with some of the trees having trunks over 3 metres in circumference. They were planted by local Council in 1897 to commemorate the Diamond Jubilee of Queen Victoria's reign. Originally 100 trees were planted.
Autumnal favorites....
So you've got the kids rugged up, car ready and phone charged (or camera for the traditionalists). So where do you start your autumn leaf journey?
We've listed some of our local Hawkesbury favourites – but look around on your travels as there are bound to be more trees changing?
Windsor
The Terrace (Howe Park), Windsor
Richmond
Hawkesbury Valley Way, Richmond (towards Clarendon)
Chapel Street, Richmond
Richmond Park, Windsor Street, Richmond Pughs Lagoon, Francis Street, Richmond

Kurrajong and Bowen Mountain
Memorial Park, Old Bells Line of Road, Kurrajong
Bowen Mountain Park, Lieutenant Bowen Rd, Bowen Mountain

Mt Tomah
Blue Mountains Botanic Gardens, Bells Line of Road, Mt Tomah

Bilpin
Wildwood Gardens, Powells Road, Bilpin (entry fee applies)
Mountain Lagoon Road, Bilpin