Longneck Lagoon has a lot to offer
Longneck Lagoon a surprisingly peaceful walk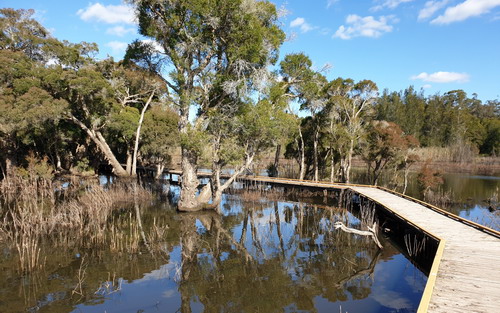 Many people driving towards Wisemans Ferry from Pitt town may not even notice this small wetland off the side of the road 10km from Windsor. Even locals may not be aware that this little extension of Scheyville National Park is a bird haven and that there is a 4km walking track that goes around the lagoon.
Longneck Lagoon is a small freshwater wetland. Over 140 bird species have been recorded in this area including seven species that are protected by an international treaty. With the development of the north west of Sydney these little patches of natural bush and permanent wetland are more important than ever before.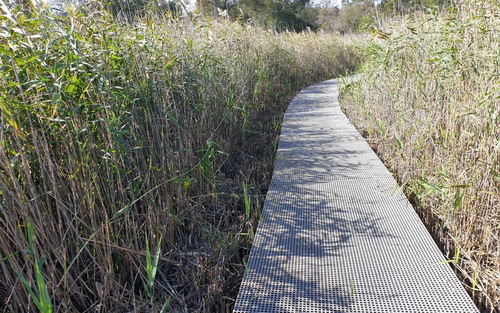 Even if birding is not your thing the walk around the lagoon is easy enough, peaceful and there are many spots which give you great views of the lagoon itself. The track is fairly shady and includes stretches of raised boardwalks which keep you above the shoreline and off the delicate vegetation. The walk would be suitable for kids and there is enough to hold their interest without being overly difficult.
There are also plenty of cleared spots where you could take a picnic enroute.
One thing about this walk is that its not a great one for warm weather. Mainly because of the risk if snakes attracted to the water and the dense undergrowth. So best do this one in autumn or winter.
.
Let's get to the Point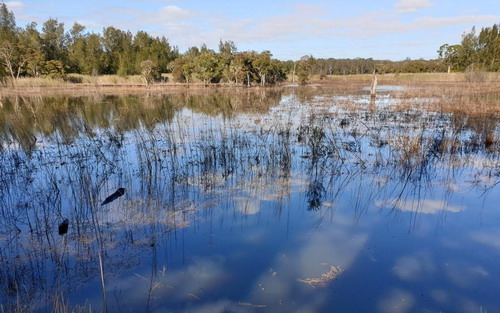 Duration : allow 1.5 to 2 hours
Length of walk: 4km return
Difficulty: the walk is a straight forward circuit walk, beware a short section at the end on a main road
1. From Windsor head towards Wisemans Ferry taking Pitttown Road which becomes the Cattai Road. It's about 10km from Windsor.
2. Leave your cars in a small clearing on the right hand side of the road - you'll see a sign for Scheyville National Park. This clearing is about 100m before the Longneck Lagoon bridge and signpost on the main road. The walking track starts behind a locked gate.
3.You'll be heading anti-clockwise around the lagoon. Initially the path follows a farm boundary fence before heading into thicker forest. About 100m from the start the track comes to a small, confusing muddy clearing. Take care to pick up the right path here - its the one that heads towards the lagoon.
4.Follow the path through light forest including some stunning older paperbark trees - ignore any minor pathways coming in from the right.
5.Soon you'll come to a raised deck crossing a swampy part. Immediately after a bridge, turn left and then take an unmarked foot path on the left which hugs the water. This soon leads to a one way 50m boardwalk which is a great spot to watch birds. Return to the main track.
6.Once you return from the boardwalk head straight towards an obvious large grassy clearing with an interpretive board. Look for a management track heading north- there are many tracks in this area but if you keep following larger ones that head towards the lagoon you won't get into trouble. Pass a sign for Dragonfly Creek. Also the track never climbs any hills - so if you end up climbing you are on the wrong track.
7.Finally you leave the lagoon and head through a gate onto a driveway. Turn left meeting Cattai Road after 100m. Sadly you've got about 200m of road walking to get back to the car. - I crossed over and found it to be a bit safer on the western verge Take care as vehicles go fast on this road.