Wet and wild on the Hawkesbury
We were excited to experience the Hawkesbury's latest attraction - Hydrojet - a brand new jetboat ride along our famous river. Not only did this promise to be a new way to see the river but we were excited to learn that we were going to get a bit of adrenalin and fast water fun thrown in.
The tour departs from Windsor Bridge Wharf which is the heart of historic Windsor. Parking can be restrictive in the town due to time limits so plan accordingly. Don't be late.
The tour takes 3 hours and the boat takes you down to Paradise Cafe at Lower Portland for lunch then returning to Windsor. You must book online and numbers on the boat are limited. Adults pay $129 and children 5-12 years are $99.
Safety first! Listen to your captain and life jackets are provided (and must be worn). Wear sensible clothes and footwear as you need to be agile climbing into the boat when taking your seat.
It's a great fun for all – on our tour there was a mix of families, mates getting together and a corporate celebration.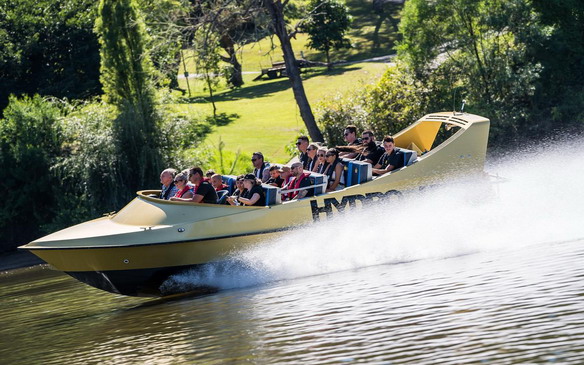 On your tour the Captain will guide you along our beautiful river enabling you to sit back and enjoy the Hawkesbury's natural beauty. As we made our way along we took in the incredible landscape and we realised what a wonderful opportunity it is to discover the Hawkesbury from a completely different point of view.
The boat ride on the way to the Paradise Café is tranquil and scenic, the rocky outcrops are magnificent to behold from the low vantage point in the boat. On this first half of the tour it focused on the history and picturesque river. We slowly floated past turf farms, Cattai National Park, Percys Place and historic Ebenezer Chruch. Our captain also stopped a few times to point out things of interest.. even locals may be surprised and learn a thing or two…
You will be pleased to know that you do arrive for lunch in Lower Portland nice and dry. As your meal has been pre ordered you simply take a seat at your allocated table. It is a special spot as the café is located riverside and a unique vibe. Many locals drop by for lunch by boat, but the cafe can also be accessed by road. The day we arrived there was a live local band entertaining the patrons, we sat back to enjoy our uninterrupted view of the river with a cold local cider while we waited for our (pre-ordered) meal.
Service is simple, casual and friendly, drinks are purchased directly from the from the bar – depending on current COVID restrictions ensure you take a mask, after lunch simply pay for your meal.
The BIG question…will I get wet??… yes!
We feel that getting wet was all part of the experience – conveniently this doesn't occur until the return trip. On the way back to Windsor we suggest you take up the Captains offer of wet weather poncho… and another tip… put the hood up too because that's when the hydro jetboat lives up to its name and the Captain ramps it up and has some fun.
Twists, turns, and monster splashes are part of the wet and wild fun as you make your way back along the river to Windsor. The return ride is thrilling for people of all ages who enjoy a little adventure.
Pros:
No need to trek into the city for a fun day out
Suitable for children over 1.2m in height
Make a day of it in Windsor and surrounds
Paradise Café is family friendly and right on the river
Cons:
Take a change of clothes and a towel – you do get wet!
Parking may be an issue at Windsor on busy days. Our tip is to park near Governor Philip Park and walk back.
You are required to climb into the boat and over the seats to find your place - so make sure you are comfortable with that
The Hydrojet is easy to book online - with all the information you need for a great day out. We had rain leading up to the day of our tour but the team kept us up to date because unfortunately, if it is raining on the day of the tour it may be rescheduled. This is a safety measure and if required you will be contacted directly by the phone and kept up to date.
Photos: courtesy of Hydrojet