Rural cycling between two historic Hawkesbury towns
Explore Hawkesbury country lanes by bike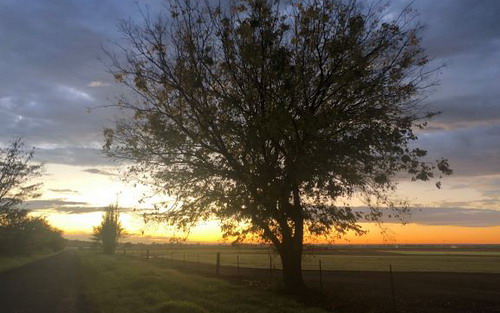 On a quiet morning you might be mistaken for thinking this cycle ride is through the English countryside. Tree lined country lanes, polo fields, orange orchards and even a turf farm or two. No you aren't in Suffolk rather this is a beautiful cycling route that links the two largest Hawkesbury towns of Richmond and Windsor. Using backroads this route gives you the opportunity to explore these historic Macquarie towns -and of course there are plenty of opportunites to grab a coffee or meal or just relax in one of the central parks. If you are into history make sure you check out the Heritage section on the website for free local Heritage Highlight Booklets.
The ride is probably my favourite in the Hawkesbury. It's all on shared roads - so don't expect a marked bikepath to yourself but saying that the roads are fairly quiet and hills (nearly) non-existent. One thing is that this route is through old farm lanes and roads - sealed shoulders for cyclists don't exist and the roads can get pretty narrow. Make sure you have a bit of experience on the saddle to negotiate pulling safely off the road when that tractor approaches!
You can start either at Richmond or Windsor - it doesn't really matter - whatever works for you. Both towns have a bike shop for last minute repairs or supplies. And if you have had enough pedalling for the day and don't want to retrace your route you can always catch the train back to the town you started in.
My pick is to start in Richmond - grab a coffee on the main street, cycle to Windsor for lunch and enjoy the distant Blue Mountains vistas on your return to Richmond. For those who like to see a map of the route click here.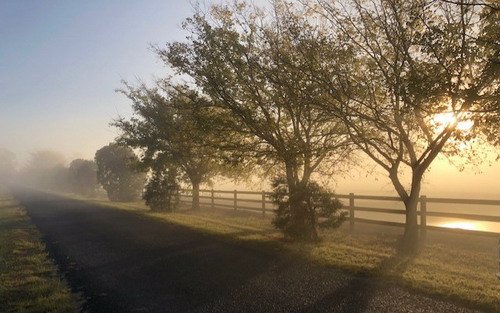 As you cycle along you might wonder why this area hasn't got a stack of dense new houses or urban development. The answer is the adjacent Hawkesbury River. The area you are cycling through is prone to flooding meaning landuse is restricted to certain activities. Locals know the area by the name 'Richmond Lowlands'. Make sure you look at the distant towns of Richmond and Windsor as you cycle along and see that they are sitting higher than the lowlands.
Being on a floodplain means the soil is extremely fertile and over the years different agricultural industries have taken advantage of this. Thirty years back there were more market gardens and orchards along the route - today turf farms, horse studs and polo fields are more common.
.
Let's get to the Point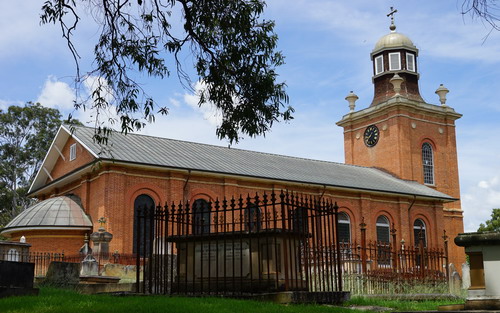 Duration : allow 2-3 hours for an average cyclist (plus breaks)
Length of ride: 25km return
1. From the corner of West Market Street, Richmond cycle west along Francis Street. Turn right into Onus Lane.
2. Head down Onus Lane and after 1.6km turn left into Powells Lane. At the intersection with Triangle Lane swing around to the right continuing along Powells Lane.
3.Follow Powells Lane towards the river passing polo fields- after 3.3km the road does a sharp right and becomes Edwards Road.
4.At 6km come to an intersection and take the left hand turn into Cornwallis Road passing horse studs, turf farms and market gardens. Ignore the turn-off to Cuppitts Lane and continue straight ahead.
5.At 10.3km the road forks - veer to the right continuing to follow Cornwallis Road.
6.Keep an eye out along this stretch for a sign commemorating the loss of 12 lives from a local family at this site in 1867. This is a reminder of the destructive floods that have affected the area.
7. Cross Rickabys Creek and the road climbs sharply towards historic St Mathews Church built in 1840.
8. At the intersection with Moses Street turn left and then left again into The Terrace. This will take you towards the centre of Windsor and Howe Park.
9. After a break return to Howe Park and cycle along the footpath leading west to Deerubbin Park. Cross over the footbridge and rejoin Cornwallis Road. Retrace your route back to the intersection with Edwards Lane.
10. Instead of turning right (which was the way you came), turn left and follow the road around to Bensons Lane. Bensons Lane will take you back to Francis Street in Richmond.