Ten Mile Hollow (without the leg irons!)
An overnight bushwalk loaded with convict history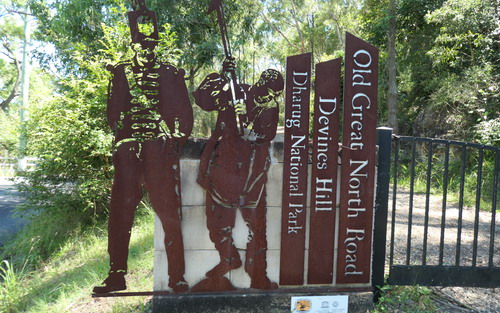 Most people are familiar with the convict constructed Old Great North Road. Built between 1826 and 1836 the heritage listed section near Wisemans Ferry up Devines Hill is particularly popular for casual walkers wanting a glimpse into the harsh life of convict road gangs.
If you're kitted out to do an overnight bushwalk the trip from Devines Hill to Ten Mile Hollow is a cracker - and as a bonus you'll be able to do a short sidetrip to see Clares Bridge built in 1830.
Don't plan to do this walk in summer as the ridges are hot and bushfire prone. There's no reliable drinking water until the campsite meaning you are carrying everything for the day. There are uneven, rocky stretches and some moderate climbs but because the convict road was constructed to take horses and carts nothing is super steep.
If you want to learn more about the history of this road the Hawkesbury Visitor Information Centre (open 7 days a week) has a free map available.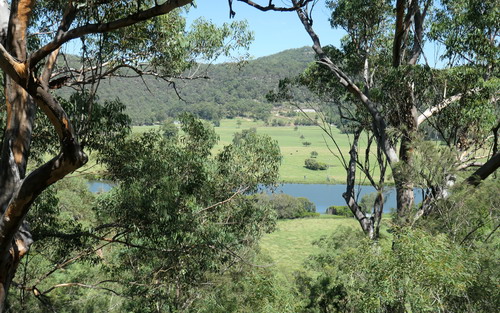 The walk is suited for people that have done overnight walking before and have a reasonable degree of fitness. You also need to have basic navigation skills and bush common-sense. Don't expect mobile phone coverage on the walk. We always recommend taking topographic maps (available for purchase from the Hawkesbury Visitor Information Centre) to give you a better insight into the terrain.
One of the most appealing aspects of the walk is that it's well sign-posted, has plenty of historical info plaques and has a pleasant, shady campsite at the end. The National Parks managed campsite at Ten Mile Hollow has a large fire ring, composting toilet and a water tank (treatment essential) and must be booked online.
Convict toil for an abandoned road project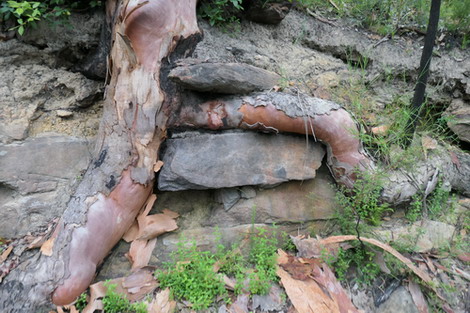 The Great North Road was built by convicts as an overland route between Sydney and the farmlands of the Hunter Valley. Measuring 240km most of the road continues to be used today but the remote section north of Wisemans Ferry to Bucketty offers a fascinating insight into the roads convict construction.
Over 700 mostly re-offending convicts toiled through trying conditions to build the road with crude equipment. At the time the road construction was state of the art using the latest European engineering ideas. The convict work was hard and involved clearing timber, digging drains, blasting stone and shifting blocks into position. Some of the convicts worked in leg irons weighing up to 6kg which could only be removed by a blacksmith.
Exploring this section really feels like you are walking in the footsteps of convicts and its very atmospheric particularly when the ridges are shrouded in mist. The remoteness of this section of road was it's undoing with travellers shunning away from the desolate, unpopulated ridges. By 1830 the road near Wisemans had begun to fall into disuse and disrepair with travellers favoring more settled routes and steam ships offering a safer and faster route between Sydney and Newcastle.
Lets Get to the Point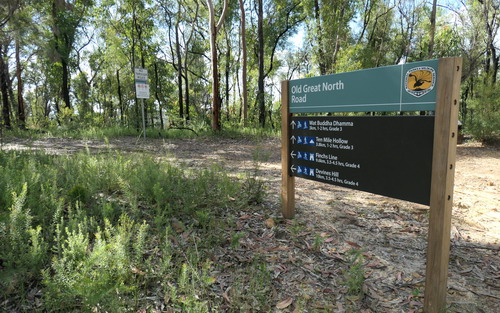 Duration: 2 days return (5-6 hours one way)
Length of walk: 32km return (plus 2km return to see Clares Bridge)
Difficulty: Medium (avoid doing in summer), the walk is well signposted
1. Cross the main Wisemans Ferry and immediately turn left onto Settlers Road. Drive for approximately 1.5km and you'll see the Old Great North Road gates on the right. Leave your car on the opposite side. The walk starts behind the gates and leads gently uphill for about 1.5km. Devines Hill has impressive stonework, masonry walls (one wall is nearly 10m high) and heaps of interesting interpretative plaques so take your time to read them. They give a fascinating insight into the people that shaped this road and what they had to endure.
2. At the top of Devines Hill you'll pass through a barrier and come to a significant signboard and intersection. On the signboard you'll see Ten Mile Hollow marked as being 13.4km away. This is the direction to follow.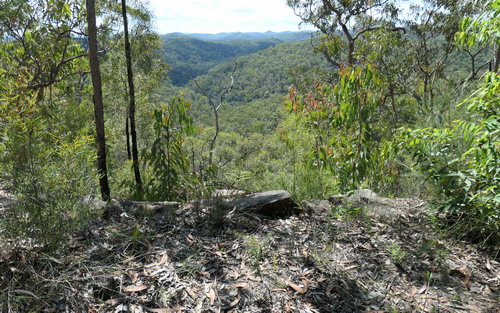 3. The track continues to climb gently passing a interpretive board about convict drain construction and then after 400m a sign to Finches Line walking track. Ignore the Finches Line track leading off to the right and continue on the main track.
4. From this point the track gets a bit rougher but is still very easy to follow. It winds slowly north curling around dry ridges, picking its way through incredibly tough rocky terrain. Surveying this road in 1825 would have been a challenge. Assistant Surveyor Finch relied heavily on Aboriginal tracks to help work a route out. There are distant views to the north-west to the remote parts of Yengo National Park and Parr Conservation Area.
5. The track continues for about 10km - sometimes you are walking over rock shelves which would have been challenging for horse drawn carts. The next significant point is the intersection with the Western Commission Track. This is a private road but walkers and mountain bikers can use it. At the intersection turn left following the sign to Ten Mile Hollow 3.8km away. This road has the occasional vehicle using it so stay alert.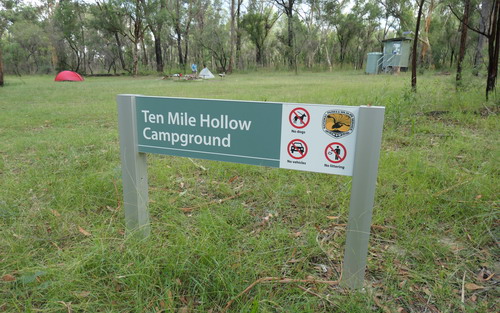 6.Follow the dirt road north eventually passing the buildings of the Wat Buddha Dhamma Retreat. This is private property so please respect the owners space and resources.
7.By now you are probably keen to get to camp for a cuppa and your reward is close. A few hundred metres past the retreat you'll come to the signposted Ten Mile Hollow campsite. The camp has plenty of grassy, flat sites. The shady clearing was originally ear marked as a site for an inn for travellors. No inn was built but you can see the areas appeal as a resting spot.
8.The camp has a water tank but it should be treated if you intend to use it. When I was there it had tiny worms swimming around in it and the National Parks had signs warning against consumption. Of course water at any time of year can't be guaranteed. Alternatively there is a small creek on the track to Clares Bridge or the retreat will let you fill up your water bottles at their tanks. They rely on this water year round so be mindful that access conditions can change. Its always safe to have a spare litre or two up your sleeve if its been a dry season.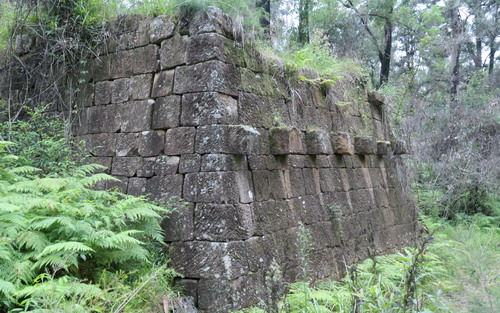 9.Depending on how you're feeling you may want to explore Clares Bridge after setting up camp or leave it to the next morning. It's a 30 minute easy return walk from Ten Mile Hollow and the trail is signposted. Initially you will cross a newer bridge and gate. Continue north along the obvious foottrack. Built in 1830, Clares Bridge was named after Arnold Clare, the overseer who supervised the convicts constructing it. It's the second oldest bridge on mainland Australia and the sandstone was quarried from the surrounding hillside.
10.The next day return the same way. Remember to take your rubbish with you and leave the campsite better than you found it!